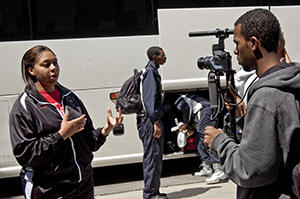 Full Video Production
WeCU Productions is proud to offer full video production to meet the scale and needs of any project you may have. We can do full-length feature films and documentaries, short films, television shows, commercials, music videos, tutorials, training videos, or whatever you may need. We can handle it all from pre to post-production.
Event Coverage and Live Streaming
Event coverage is a specialty of WeCU. One or two cameras, or seven to ten, we can cover your event from start to finish and even stream it live on the internet.
Full Audio/Video Editing and Copy Services
Have a fully filmed or recorded project that just needs professional editing? No problem! We can take your raw footage or existing project and create something new and exciting! We can also copy your old videos and tapes to digital formats to preserve them for years to come.
Graphic Design, Print Layout and Still Photography
Do you need more than just video production and editing? WeCU's team can put together all kinds of graphics, logos, motion graphics, and animations. We can also provide studio quality still photography at your home, school, or place of business, and handle pre-press production for your print projects.
Production Consulting
For those who may just need a little guidance, WeCU can help you along with our production consulting. Let our team help yours through any or all stages of the production process.
WeCU Will Travel!
Not in the Louisville area? WeCU will come to you in Indianapolis, Nashville, Cincinnati, Chicago, St. Louis, or wherever else you may want us to go! Just ask one of our team members for details.